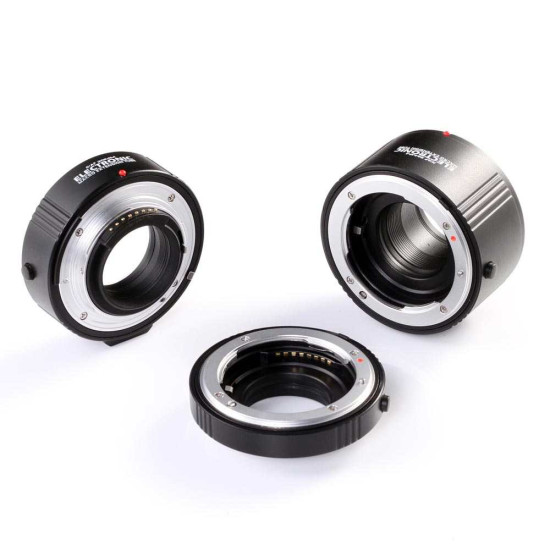 Out Of Stock
Macro Extension Tube Nikon AF Macro Tripo (Out Of Stock)
Automatic Macro Extension Tube Set 13+20+36mm DG II
is designed to enable a lens to focus closer than its normal set minimum focusing distance. Getting closer has the effect of magnifying your subject (making it appear larger in the viewfinder and in your pictures). They are exceptionally useful for macro photography, enabling you to convert almost any lens into a macro lens at a fraction of the cost while
maintaining its original optical quality.
The DG II extension tubes have no optics. They are mounted in between the camera body and lens to create more distance between the lens and film plane. By moving the lens father away from the film or CCD sensor in the camera, the lens is forced to focus much closer than normal. The greater the length of the extension tube, the closer the lens can focus.
It comes as a set (13mm+20mm+36mm). It contains 3pcs tubes in different length 13mm/20mm/36mm,which can be used in any combination or individually to obtain the different magnification.
Each Tube has electronic contacts, which make it support automatic focusing, automatic exposure,etc. The 20mm & 36mm tube are designed with 1/4" tripod mount, which
make it convenience using on the tripod.
Diameter of the tubes: Approx. 62mm
Tube length: 13mm,20mm,36mm
Material: Built in Metal Bayonet & Plastic Body
--For Nikon Nikkor AF, AF-S, D, G and VR lens series
--For Nikon DSLR cameras (such as For Nikon D7200, D7100, D5500, D5300, D5200, D3200, D810, D800, D800E, D5100, D7000, D3100, D300S, D5000, D700, D300, D90 etc.)
1 x AF Automatic macro extension tube 13mm+20mm+36mm set
Stock:

Out Of Stock

Reward Points:

50

Model:

Nikon-AF-ET Tripo
Nikon
Price in reward points: 6800